Shopping Cart
Your Cart is Empty
There was an error with PayPal
Click here to try again
Thank you for your business!
You should be receiving an order confirmation from Paypal shortly.
Exit Shopping Cart
A Celebration of Life: November 5 1985 - January 24 2003


CHILD OF NOVEMBER
Let us gather to mourn and remember
A beautiful child of November
Facing a lonely tomorrow
Bearing the weight of our sorrow;
Tears may fall like heaven's rain
But the memory of his presence will always remain;
Spring will come when the robin sings
To ease the pain that winter brings;
So, cherish those moments of utter joy
The luminous smile of a little boy;
Sharing our love must never wait
'Cause destiny is ruled by luck and fate;
Time is as precious as every breath we take
As fleeting as every promise we forsake;
In happiness or in strife
I vow to honor him the balance of my life;
His spirit will linger like a burning ember
Goodbye, our beautiful child of November!
------by Joseph Ruiz

My Sister's Son
You passed through our world like a meteor at night
A brief burst of energy, but oh so bright
Seems like it was only yesterday
When you made us laugh with your curious way
Your short time was blessed by so much love
Now, Angels carry you to the heavens above
Too many memories in my head
Too many things I should have said
I should have tried harder to always be near
To give you the warnings you needed to hear
Those final words bring so much pain
But Henry Badillo will not die in vain
My life shall proceed with much regret
Poco, my nephew, I'll never forget

NOWHERE
To: Andrew, Max, Carlo & Henry
The haunting cry of an urgent call
The endless ticking of a clock on the wall
Notes of music heard from afar
The lonely image of his silent guitar
Words that will never grace a page
Poets gone at too early an age
Sadness and pain in a Mother's face
Bittersweet memories of a final embrace
Through autumn's gray or the blue of summer
I'll dance to the beat of a distant drummer
From the streets of Tribeca to the shores of Pelham Bay
We walk with fallen angels and teardrops in our way
-Joseph Ruiz (05/03)

Trying
Wandering the streets in a daze
Trying to negotiate the human maze
Contemplating the wasted years
Trying to stem the tide of tears
Thinking I saw your face today
Trying to understand how you went away
Struggling with a bitter hurt
Trying to ignore the terror alert
Nine one one and nine fifty eight
Trying to forget these numbers I hate
Searching for success and prosperity
Trying to find a moment of tranquility
Stuck behind my emotional fence
Trying to recall when the world made sense
-Joseph Ruiz (03/09/03)

Seasons
In the darkness, I awaken
And despair for what was taken
Seasons pass me by
Yet, still I wonder why
It's hard to understand
The touch of nature's hand
So many days remind
Of the void they left behind
Living always in my memory
Forever young and running free
Reunited at the water's edge
To reaffirm a solemn pledge
Never forget, but grieve no more
A final farewell to our band of four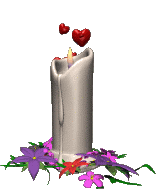 From holy waters to Holy Cross
Life is a journey of triumph and loss
Comes a time when roads must part
Forever, he lives in a family's heart
On a bed of clouds, a child to sleep
Tears to dry in a love so deep
A smiling face among the stars
To sooth the anger and heal the scars
Treasure the memory of a joyful past
These moments of anguish shall not last
Our precious bird has flown away
In the arms of Jesus, he'll always stay
At the gates of redemption a "little one" stood
Give thanks to the heavens 'cause "it's all good"

What defines a Mother's love?
Or, the majestic beauty of a soaring dove?
The simple treasures she'll forever miss
The gentle pleasures of maternal bliss
Lost in time amid reflection
Fond remembrance of a Child's affection
What compares to a Mother's devotion?
Not the highest peak or deepest ocean
-Joseph Ruiz (05/19/05)

A Winter's Night
I turned away and you were gone
Each sunrise brings a lonely dawn
Too many tears I have cried
The emptiness down deep inside
The somber words that I still hear
A desperate voice ringing in my ear
Tormented by a mother's plight
Stolen dreams on a winter's night
So hard to bear our family cross
So hard to share our family loss
Denied a chance to say goodbye
Only left to question why
-Joseph Ruiz (01/06)

Was it fate, or was it God's will?
A Mother mourns a lost child - even still
In springtime's bloom or winter's chill
A family struggles to accept - even still
Neither time nor space will ever kill
The bitterness I feel - even still
Memories of laughter continue to fill
My anguished heart with pleasure - even still
Though lost in pursuit of a misguided thrill
Our pride and love shall remain - even still
I hope this celebration will instill
A small measure of healing – even still
-Joseph Ruiz (11/06)
Henry Anthony Badillo
11/05/85 – 01/24/03
Happy Birthday, Poco. Sleep in Peace.

Rest In Peace
Henry, Max, Carlo & Andrew
always in our hearts!
/